What is G.F. Skipworth's

The Simpering, North Dakota Literary Society

? Its founder is Farika Zingarella, a nun who was kicked out of the convent for the hefty sum she won in a 1862 poker game since "a deck of cards was a Stradivarius in her hands."

She didn't just invest her winnings, she amassed the wealth of a small nation. In order to manage the funds, a "literary society" (a name that does not give off "the odor of greed and ungodliness") was formed in the tiny community of Simpering, North Dakota.

Its female stockholders are known as "The Mighty Five." They are brazen enough to hold a world economic summit in North Dakota (without inviting the United States) and travel the globe in order to further pad their portfolios. They are:


1. Edielou Zingarella

- think Katherine Hepburn

.

Daughter of Farika. Leader of the pack. Too rational for romance. Supreme organizer whose main goal is to continually increase the society's net worth. Doggedly pursued by the romantic sensibilities of a passionate Italian financier, who yearns to protect her. The subject of Lady Astor's cruise ship entertainment. Targeted by the evil machinations of Fascists determined to prevent her from buying what remains of post-WWI Europe through a kidnapping plot, gunfire, car chases, etc.


2. Mary Beth Tomes

- think Harry Potter's Mrs. Weasley

.

A simple housewife with a heart of gold. A devoted schoolteacher. Takes Europe by storm with her recipe for cherry pie. Missing a toe on her left foot. Full of good old country sense. Goes toe-to-toe with the sophisticated verbal repartee of a corrupt French official. Teams up with her rifle-toting, frontiersman husband to rescue Edielou from imminent danger.


3. Priscilla Thistlewaite

- picture a more eccentric version of Emma Thompson.

A complete Anglophile. Enamored with the British theatre. Would love to inhabit the life of a fictional character rather than her own. Referred to as "Her Ladyship." Saved a child in Simpering from a runaway carnival bear. An upturned nose is her most distinguishing feature. Known for her self-produced monologues.


4. Gillian Bolzner

- think Marilyn Monroe.

The daughter of a world-famous variety act. A beauty queen. The object of men's desires. A soldier's pin-up girl. A blond songstress whose theme is "Sunny Is As Sunny Does." Loved by all. Knows nothing but show business. Wishes to leave the limelight behind. Attracted to a man who has no idea who she is.


5. Ida Bolzner

- picture an older version of Wednesday Addams.

The twin sister of Gillian, but her polar opposite. Gothic, dark, gloomy, brooding. A feared seer - her second sight is always on target, when she chooses to divulge what she knows. Loves rainy days. Favors Transylvania and the remote parts of Russia during her European tour. Jealous of Gillian. Meets her soul mate along the way.
Skipworth's writing style reads like a script taken from the annals of the
Ziegfeld Follies
or a current broadcast of
A Prairie Home Companion with Garrison Keilor
. The narrator is present in the story making comments and offering advice. At times, the asides veer the narrative off course, for example the background on Simpering's oldest soldier, but overall one can easily imagine the narrator laughing along with the reader at the characters' antics.

Overall, a fictional feminine undercurrent is added to the power structure of U.S. history.
The Simpering, North Dakota Literary Society

by G.F. Skipworth is available for $14.50 at

Amazon.com

and at RosslareBooks.com.


A complimentary review copy was provided by Pump Up Your Book Promotion.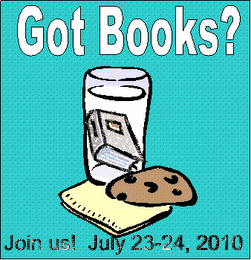 Enter to win a FREE copy of The Simpering, North Dakota Literary Society as a part of our Got Books? giveaway.
(1) Go to Tribute Books online shop and take a look at our titles.
(2) Leave a comment with your email address and the Tribute Books title that most interests you.
A winner will be chosen on July 24, 2010 midnight.

Congratulations to our winner: Kailia Sage!