In Regency England, would an earl really marry his housekeeper? That is the question posed by Grace Burrowes in her debut historical romance,

The Heir

. It is certainly a Cinderella-like tale when Gayle Windham, Earl of Westhaven, refuses to marry anyone save his servant, Anna Seaton. Why the rush to the altar? Westhaven's father, the Duke of Moreland, desperately desires an heir regardless of the mother's pedigree. He is so blatant about his need for a grandchild that he even gets Westhaven's mistress pregnant by another man in order to pass the child off as his son's.

Westhaven was not meant to be the focus of his father's fanaticism. It was not until the death of his elder brother that the spare became the heir. He loathes his new position in the family hierarchy and will do anything to escape the yoke of matrimony. He's a free-swinging bachelor who means to keep it that way.

Enter Anna Seaton and her secrets. Is she really a war widow? Is the deaf chambermaid, Morgan, her relation? Is she in some kind of trouble? Westhaven is enraptured with the mystery that surrounds her, and he leads her, however reluctantly, down the path of seduction. As the two become more and more intimate, Westhaven's innate caution starts to unravel. In giving himself body and soul to Anna, he might just bestow upon her his father's greatest wish.

As a first time author, Burrowes does a great job in connecting the reader with her characters. Her portrayal of Westhaven and his brothers Val and Dev is spot on. The fraternal teasing as Westhaven falls for Anna is poignant. His brothers inwardly rejoice at his finding happiness. A book is only as good as the depth of its secondary characters and Burrowes fully rounds them out. Whether it's the touching friendship that develops between the piano virtuoso Val and the timid Morgan or the way Dev as an illegitimate son of the Duke is restrained by his secondary status.

A variety of detail is the only weak point. By the conclusion, the reader will never forget that Westhaven enjoys an ample amount of sugar in his lemonade and that Anna is forever arranging flowers throughout his London abode be it in the empty fireplaces or on a dining serving tray. At times, the romantic interludes read like a how-to lesson from the

Kama Sutra

. Depending on the reader, sometimes less is more in these instances.

Overall,

The Heir

is a great page-turning take on forbidden love.
***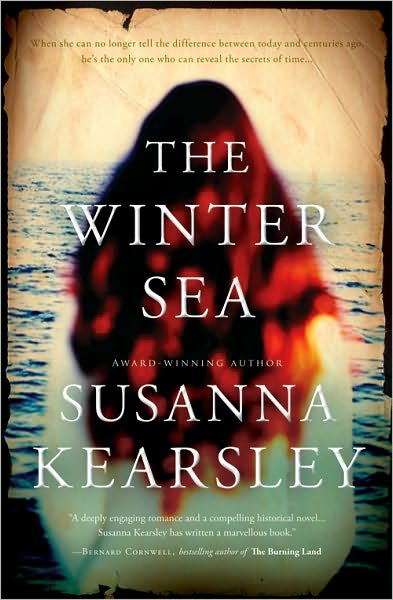 The Winter Sea

is one of those novels that a reader doesn't come across too often. It is a creative tour de force. Sometimes a writer catches lightning in a bottle, and Susanna Kearsley has done just that. The idea behind the plot is ingenious. It centers on author Carrie McClelland as she journeys to Scotland to write a historical fiction novel concerning the 1708 Jacobite Rebellion. In many ways, life imitates art as the reader gets a behind-the-scenes glimpse of Kearsley's writing process as shown through Carrie's work habits. It's a fascinating look behind the veil of a writer at her craft depicted through a character of her own creation. Brilliant!

The novel is broken down into two settings - modern day Scotland with Carrie and 1708 Scotland with Sophia, a dependent of the countess of Slains Castle. The chapters are intermingled throughout the book with numerical designations such as chapter 1, 2, 3, etc. for the present and Roman numerals for the historical segments such as I, II, III, etc. What provides the bridge between the two worlds is Carrie's ancestry. She discovers that Sophia actually resided at Slains Castle, and not just in her mind. To top it off, she is related to a woman she initially believed to be a figment of her imagination. As Carrie delves deeper into the story, she begins to unearth facts about Sophia previously unknown to her through dreams, deja vu and genetic memory. The story already happened. In fact, it seems to be writing itself with Carrie serving as merely its vessel.

The inherent love story also spans the centuries. Carrie's attraction to history professor, Graham is immediate when she happens upon him and his dog at the ruins of Slains Castle. However, Graham's playboy brother, Stuart, tries to claim her attention for his own. While back in the early 1700s, Sophia is enchanted by John Moray. However, as a loyal servant to the exiled King James, he is a man with a price on his head in his native land. In planning the 1708 rebellion and bringing the Stuart king back to the throne, his life is in constant danger. A life he does not want Sophia to have to endure. Before Moray is recalled from Slains Castle to return to the Scottish court in France, he weds her in a secret ceremony in the hope that one day they will be reunited.

Kearsley has a knack for embodying her characters with a down home sense of charm. None more so than Jimmy Keith, father of Graham and Stuart. With his Scottish lilt of "quine" and "roast a bit of beef," the elderly gentleman and landlord of Carrie's rented cottage, is a welcome addition to the novel's pages. Another excellent example is Moray's Uncle Graeme who comes to comfort Sophia at Slains Castle when his nephew is in the heat of battle in France.

An interesting note throughout is Sophia's fate. Carrie uncovers through historical documents that she married a man named David McClelland, her ancestor. What then happened to Moray? The answer to that question builds to a heart-wrenching conclusion.

The title -

The Winter Sea

- is also quite moving. When Sophia is alone and worried that she will never see Moray again, his Uncle Graeme reminds her that without the desolation of winter there can be no ever-renewing hope of spring. It is a hard lesson about accepting the bad in order to appreciate the good, but it is a lesson worth learning and relearning throughout life.

Overall, all writers wish for the psychic inspiration Kearsley gives to Carrie.




Mr. Darcy as a Wild West cowboy? A dungaree-clad Elizabeth Bennett flying over the range on her painted pony?

Pride and Prejudice

is done Texas-style in Jack Caldwell's debut novel,

Pemberley Ranch

. Whether or not a devotee of the esteemed classic novel will want to mosey on over to the antebellum cattle town of Rosings, depends upon one's taste for shifting the time and place of Austen's beloved characters. If one's taste is for

Pride and Prejudice and Zombies

and the numerous sequels, prequels and spin-offs in existence, then Caldwell's take will be heartily enjoyed. For the Jane Austen purist, it might be a bit harder to swallow.

Where Caldwell excels is in fleshing out the masculinity of the buttoned-up Regency era Darcy. Here the sense of his authority and command over outlaws and swindlers is impressive to behold. He's as fast with his gun as he is in spying on a skinny-dipping "Beth." He is a man that other men can't help admiring, and one that causes many a woman to swoon.

However, it is Darcy's inner turmoil that is most captivating. As a Confederate soldier, he was flogged within an inch of his life. If not for the attentions of his comrade "Dr." Bingley, he would not have survived. The wounds run deep. He collapses during a night of heavy drinking after "Beth" refuses his marriage proposal. Yes, the self-contained Darcy gets intoxicated.

At times, the Annie Oakley approach to Elizabeth is a bit much. Being a crack shot with a rifle during a Custer's Last Stand/Alamo type scene borders on the unbelievable. While the original Elizabeth was more than a tea-sipping lady in a parlor, she also wasn't above and beyond her time period in terms of her station and decorum. Caldwell's Beth is a little more tomboy and a little less intellectual.

The more inspired anecdotes involve the supporting cast. Fitzwilliam and Charlotte Lucas have a secret, passionate affair. Caroline Bingley suffers post-traumatic stress disorder from Sherman's March to the Sea and the burning of her Georgia home. Lily (Lydia) is a saloon girl thrown away by town bad boy George Whitehead (Wickham). Mrs. Bennett possesses common sense and the esteem of her husband.

Another tidbit that Caldwell gives to fans is introducing characters from other Jane Austen novels into the story. Henry Tilney of

Northanger Abbey

is the town clergyman and devoted suitor of pious Mary.

Emma

's Mr. Knightley and his brother are the entrepreneurs that Darcy invests in to bring the railroad to Rosings. While bit players like Anne de Bourgh and Georgiana Darcy are given more of a voice.


Overall, if you're willing to hop in the saddle, you'll enjoy the ride.



The Heir

by Grace Burrowes is available for $6.99 at
Amazon.com
and at
GraceBurrowes.com
.


The Winter Sea
by Susanna Kearsley is available for $16.99 at
Amazon.com
and at
SusannaKearsley.com
.


Pemberley Ranch
by Jack Caldwell is available for $14.99 at
Amazon.com
and at
Ramblings of a Cajun in Exile
.
Advance review copies were provided by The New York Journal of Books.


Congratulations to our winner: MissKallie2000!