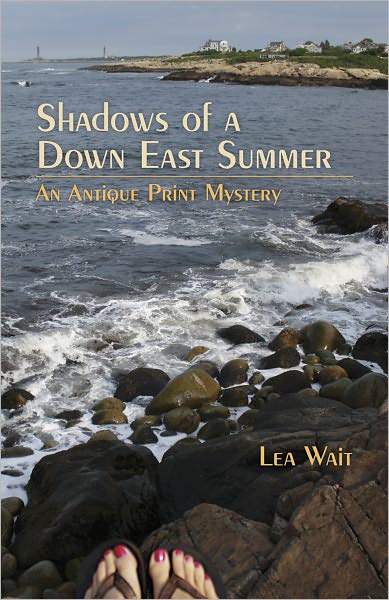 Young women of the Victorian era were expected to be pristine, unblemished and pure. But how did they really behave? Were calculated means employed to achieve desired marital ends? Lea Wait seems to think so in the time traveling, murder mystery

Shadows of a Down East Summer

. In the summer of 1890, the lives of Jessie and Anna May are irrevocably changed. Echoes of the intensity of their experience linger in the air of Waymouth just off the coast of Maine.

Fast forward to the present day and visiting antique print dealer, Maggie Summer. After discovering Anna May's journal, the girls' long held secrets begin to unravel. However, as Maggie gets closer and closer to reading the diary's final entry, death, violence and destruction descend all around her. Someone does not want Maggie to know what really happened to Anna May and Jessie that summer, and they'll stop at nothing to keep her from learning the truth.

The novel excels when the setting shifts to 1890. With Anna May as the narrator, she relates how she and Jessie were hired to pose for the world renown artist, Winslow Homer. The eccentric recluse paints them as fisherwomen repairing nets with their hair unrestrained hanging loosely around their shoulders and feet unadorned of stockings and shoes. Both were cultural taboos for well brought up young ladies of the time period. As propriety starts to wane, so do the girls' sexual inhibitions. Swept up in the bohemian influence of the artist's cottage, they readily consent to try new things without fully realizing the perilousness of their position.
The majority of the story is focused on Maggie's quest to follow the breadcrumbs left by Anna May. While a likable character, the details involving Maggie slow the dramatic pacing. It is not exactly riveting material to follow her around a rained-out antique show or an L.L. Bean outlet store. While Wait's attempt at infusing local color is welcome, especially the delectable seafood dishes, having Maggie as the book's driving force seems misplaced. Since the book is the fifth in a series of Maggie novels, the choice seems correct at the outset, but flounders as it progresses onward. The gripping, page turning momentum lies in 1890, and not with Maggie.

Since Wait is a fourth-generation antiques dealer, herself, she blends her knowledge into catalog-like listings of paintings, prints and maps to begin each chapter. These are fascinating snapshots of collectible artwork such as hand-colored lithographs by
Currier & Ives
and
wood engravings from
Harper's Weekly

. Dimensions are given as well as their estimated current value. These gems of knowledge serve to foreshadow the theme of each chapter. From the death of President Franklin Pierce's son in a train derailment to the idealized figure of the Gibson Girl, Wait's carefully selected treasures add a level of authenticity to a book subtitled "An Antique Print Mystery."

Overall, the momentum of this antique thriller gets bogged down in the present.

Shadows of a Down East Summer
by Lea Wait is available for $14.95 at
Amazon.com
and at
LeaWait.com
.

R
eview copy was provided by
New York Journal of Books
.



Congratulations to our winner: Victoria Zumbrum!