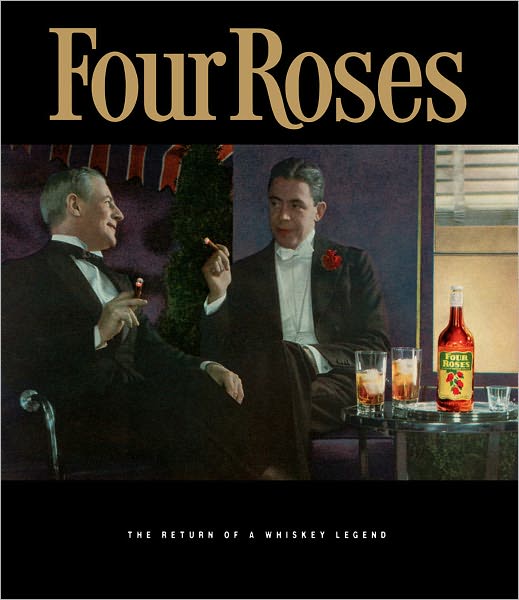 Niche picture books cater to a select audience. Al Young's

Four Roses: The Return of a Whiskey Legend

is a glossy, hardcover look at the history of a Kentucky brewery.
The stylish, sophisticated design depicts nostalgic print advertisements and thirst-inducing images of bourbon on ice. While light on text, the background of the Four Roses brand is related in an easy-to-understand manner and only briefly delves into industry jargon. It is the typical story of an American company that started small, expanded then contracted. Instead of disappearing entirely, Four Roses is inching its way back into American liquor stores in an attempt to recapture its former glory. The release of a commemorative book helps to place the company's mission in front of whiskey connoisseurs the world over.


The saga begins when Paul Jones, Jr. takes in his orphaned nephews after their father is killed in the Civil War. One of the young boys, Lawrence Lavalle Jones, would grow up immersed in the trade leading it to new heights.
His love story inspired the Four Roses name. After repeatedly asking his sweetheart to marry him, he sent her a dozen roses accompanied by an ultimatum.

For over five years I have asked you to marry me. Tonight I ask you for the last time. If the answer is yes, wear a corsage of four roses, if it's no, don't wear any.

Needless to say, his wish was granted, and a legend was born.


The company excelled in promoting itself via creative and well-placed advertisements. The Four Roses lighted outdoor display atop Times Square is in the famous Alfred Eisenstaedt photograph of a sailor spontaneously kissing a nurse celebrating the end of World War II. Magazine readers clamored for the annual Four Roses Christmas ad that contained a beloved eggnog recipe. The brand's quintessential image of four roses encased in a block of ice is referenced in

100 Top Copy Writers and their Favorite Ads

.

Four Roses survived Prohibition by becoming a medicinal product that required a doctor's prescription, but it had a harder time staying alive after being purchased by Seagram. The liquor giant swallowed the smaller brand's distinctive charm and level of quality. With domestic sales in decline, Four Roses remained a best seller in Japan where a new owner redirected sales efforts. Even though it was still being brewed in Kentucky, bottles of Four Roses could not be found in liquor stores across the United States. It was a dark time for a brand that, at one time, was as much associated with America as Coca-Cola, Ford and Kodak.

Resurgence efforts began in the 2000s with a committed push to relaunch the Four Roses name in America. For the first decade of the 21st century, the brand became the frequent recipient of prestigious awards as it slowly made its way back onto American shelves. The original Louisville distillery was placed on the National Register of Historic Places and currently hosts guided tours as well as a gift shop. In 2010, the building marked its 100th anniversary. The devotion of Four Roses fans on

Facebook

and its

MellowMomentsClub.com

are promising signs that the company is well on its way to obtaining its former dominance in the marketplace.

Overall, the perfect coffee table book for upscale bars and afficionados of the brand.

Four Roses: The Return of a Whiskey Legend
by Al Young is available for $29.95 at
Amazon.com
and at
FourRoses.us
.

R
eview copy provided by The Baddish Group.

C
ongratulations to our winner: Ed!