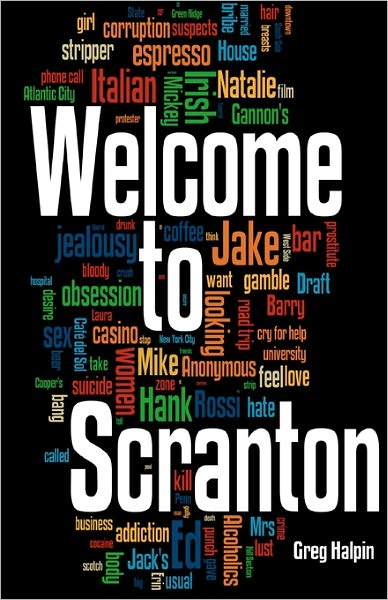 Character likeability is subjective.
In Greg Halpin's debut novella,

Welcome to Scranton

, Hank and Ed are not your typical valiant heroes or romantic leading men. Instead, they offer a glimpse into the mind of a twenty-something, small town male. They are rude, crude and obsessed with the opposite sex. All in all, they represent Halpin's take on the average guy.
Their realistic portrayal demonstrates how good writing can overshadow the cult of personality.

The main question Halpin addresses is:

Would you try to save someone you didn't like?

Despite the fact that they've been friends since childhood, Hank despises Ed. Hank is the owner of the gourmet coffee shop, Cafe del Sol, while Ed is a strip club hustler. Hank likes to watch independent films at the Ritz Theater while Ed indulges in cocaine. Hank is tolerant of the differences of others while Ed is a bigoted homophobe. Hank is in a committed relationship while Ed cheats on his pregnant girlfriend. Yet when Ed's life is in danger, Hank must decide whether or not he is worth saving.

This powerful premise is developed through dialogue laced with profanity and sexually explicit language. Hank is not depicted as a saint. He is hesitant to respond to Ed's call for help. He is reluctant to do the right thing. He doesn't want to take charge of the situation and shoulder the responsibility. This is a complex, emotional response to what may seem like a straight forward dilemma. Hank is not one who gladly rises to the challenge of saving the day. Instead, he exhibits the characteristics of a genuine antihero.

When a protagonist doesn't fall into a cliche and think/say/do the expected thing, it lends credence to the narrative. Real life isn't black and white, and good writers live in shades of gray. When characters are composed of both merits and faults, they are ultimately more believable and authentic. Their true natures are revealed by the choices they make under difficult circumstances. Do they rise to the occasion or do they fall short?

In fact, the city of Scranton, itself, is featured as a multi-dimensional character, and Halpin fleshes out the mindset of those who live there. In fact, he explains that despite the feeling of self-hatred the city imprints on its residents, many are so close to their city that they tend to view it as a member of the family. Halpin also highlights the lack of opportunity throughout the region from the impossible odds of obtaining a job with the Scranton School District to Ed suggesting Sinatra should have been singing about Scranton with the words, "If you can make it there, you can make it anywhere." Halpin continues by addressing the long held politically incorrect views of older residents in regards to non-whites and gays, and extols the younger generation for being more open minded about community diversity.

Halpin also features colorful asides in regards to area landmarks and local innuendos. Mickey Gannon's Irish Pub in North Scranton is considered the gathering place for the children of the city's elite despite being a nondescript watering hole. Due to the uneven male to female campus ratio, the girls of Marywood University are believed to be sex-starved, yet unobtainable. While Cooper's Seafood House is mocked for
its out of place architecture, but
viewed sentimentally for
its ship regalia. Across various settings, Halpin illuminates how Scranton culture is immersed in contradiction.

Overall, a raw look at the different forms a love-hate relationship can take.

Welcome to Scranton
by Greg Halpin is available for $9.95 at
Amazon.com
and at
WelcomeToScranton.com
.

R
eview copy provided by the author.


Congratulatons to our winners: Carol Wong & Karen!