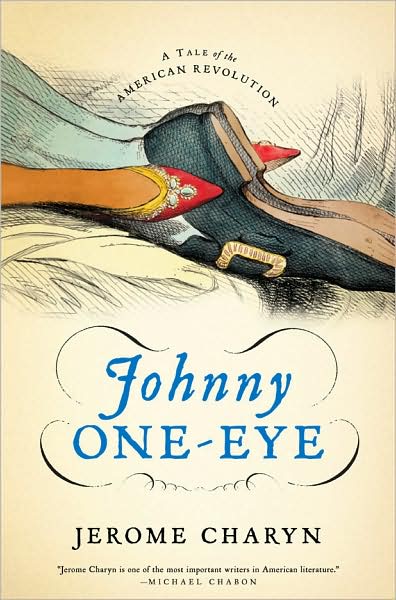 Johnny One-Eye is the Forrest Gump of the American Revolution. He's a fictitious character whose life becomes intertwined with the most illustrious personages in the land from George Washington to Alexander Hamilton. As the son of Manhattan's savviest madame, he lives in a brothel among prostitutes. Yet throughout the war, he seamlessly mingles with all classes in society from Prince Paul, the leader of the city's Little Africa, to his disgraced former general, Benedict Arnold. His ability to adapt to any situation places him in a precarious position as both the British and American forces try to recruit him as a spy. He walks a perilous line trying to serve two masters while first and foremost looking out for himself.

The travails of his love life tend to complicate matters even further. As a eye patch wearing, Quasimodo Lothario, he is hopelessly besotted with his childhood friend, Clara, who is now in the employ of his mother. As she flits from one customer's bed to another, she ridicules Johnny One-Eye's advances and mocks his romantic pursuit. Spurned by his true love, he turns to the comfort of the voluptuous mistress of General William Howe, the British commander in charge of the occupation of New York. Needless to say, Sir William flies into a jealous rage upon discovering he is sharing his lover with a one-eyed rogue.

The book itself is broken into seven sections by year from 1776-1783. Each begins with a preface written from George Washington's point of view. Johnny One-Eye shares the spotlight with the commander in chief because as the narrative progresses the question of his paternity begins to point in the general's direction. This illegitimate scamp from the gutter could, in fact, be America's first son. The two work on building a tenuous relationship as they try to watch out for each other in the midst of dangerous plots and intrigues.

Charyn succeeds in creating a George Washington who is a fully developed character. He is not the one-dimensional, mythological figure who cannot tell a lie. Instead, he is a military commander who makes mistakes, and he is passionately in love with a red-haired courtesan, Johnny's mother.
In the novel's best scene, t
hese two characteristics combine at his beloved's whorehouse. In his foolhardiness, he knowingly walks into a trap by responding to General Howe's invitation to a card game. All sides hold their breath as Washington skillfully maneuvers through the game relying on his wits to save his life.

Charyn painstakingly reconstructs the Revolutionary setting. Through extensive research and attention to detail, he masterfully brings to life the British occupation of New York City. The island teems with a volatile mixture of Hessian mercenaries, British aristocracy, rebel spies and Loyalist merchants. The rich feast as the poor starve. Johnny One-Eye, himself, depicts the various atrocities of the time. He endures a tar and feathering, imprisonment aboard a fetid naval vessel and banishment from the colonies. Yet like the young nation, he overcomes all obstacles in order to fashion his own destiny.


Overall,
even with a one-eyed account, Johnny offers a detailed glimpse of the grueling birth of a nation.


Johnny One-Eye
by Jerome Charyn is available for $25.95 at
Amazon.com
and at
JeromeCharyn.com
.


R
eview copy provided by Johnny One-Eye Blog Tour.


Also by Jerome Charyn:

Joe DiMaggio: The Long Vigil

and

The Secret Life of Emily Dickinson
Congratulations to our winner: Andrea Kruse!