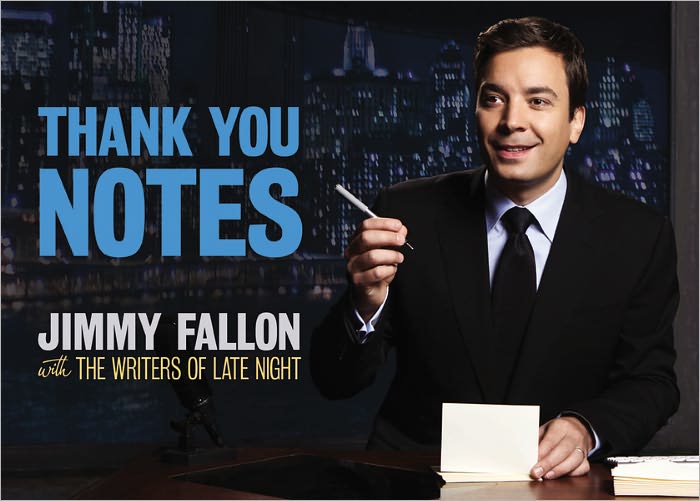 I saw a taping of

Late Night with Jimmy Fallon

back in August 2009. It was a Friday so the episode featured the weekly "Thank You Notes" segment where Jimmy writes a letter of gratitude to a variety of people, places and things such as,

"Thank you slow-walking family walking in front of me on the sidewalk. No, please, take your time. And definitely spread out, too, so you create a barricade of idiots. I am so thankful that you forced me to walk into the street and risk getting hit by a car in order to pass you so I could resume walking at a normal human pace."


Now along with the writers of

Late Night

, he has published

Thank You Notes

in book form. It features 164 glossy pages - one note per page each with a corresponding image. The size reminded me of McDonald's coupon books that arrive in the mail. As a coffee table book, it can easily be read in under 10 minutes. It's not an earth-shattering, game-changing publication. It is what it is - a collection of humorous jokes that examine the minutia of life from toilet paper to sweater vests.

The book reads like a compilation of the best tweets from the

Saturday Night Live

alum. Jimmy is a Twitter fanatic (you can follow him - along with over 3 million other people - at

@JimmyFallon

) as well as a savvy marketer. He employed the notoriety of his talk show as well as his social media standing in order to spur sales. He asked his fans, a.k.a. his "Fal Pals," to purchase a copy on May 26 via Amazon for a one hour window (3-4 p.m. Eastern, 12-1 p.m. Pacific) to boost the overall sales ranking. It worked. Jimmy's book soared to #1 on the online retailer's site. It also went on to secure the #2 spot on the

New York Times

best seller list.

Following are some of my favorite selections:



- Thank you guy in the revolving door who isn't pulling his weight, for letting me handle all the pushing responsibilities while you handle all the waiting responsibilities. No, let me get it for you. You're the king of the hotel entrance.





- Thank you Chinese delivery place, for giving me three sets of utensils when–SURPRISE!–it was just me eating. Are you trying to tell me that one person shouldn't eat all this food? Next time why not take it further? Why not have the fortune cookie tell me to "take human bites." Or say "Are you done now, fat ass?"





- Thank you flour, for keeping the paper sack container business alive. Don't want to change your packaging, huh? Whenever I buy you I feel like I'm Charles Ingalls buying something from Oleson's store on credit.





- Thank you little kid who keeps pushing the button on the Dancing Santa Doll at the drugstore. Go ahead and just keep on pushing. I love hearing the electronic version of "Rockin' Around the Christmas Tree" over and over and over. Stop pushing the button for one second so I can tell you a secret: "Santa isn't real!"





- Thank you people who show off their high school Spanish when pronouncing their order at a Mexican restaurant. The way you just said "fajita" made me feel like I was wandering the rustic streets of Guadalajara. But I'm not. I'm in a Taco Bell and you're holding up the line, amigo.




Overall,
this book is definitely the hysterical replacement to the generic Hallmark thank you card.


Thank You Notes
by Jimmy Fallon is available for $12.00 at
Amazon.com
and at
LateNightWithJimmyFallon.com
.


R
eview copy purchased from
Amazon.com