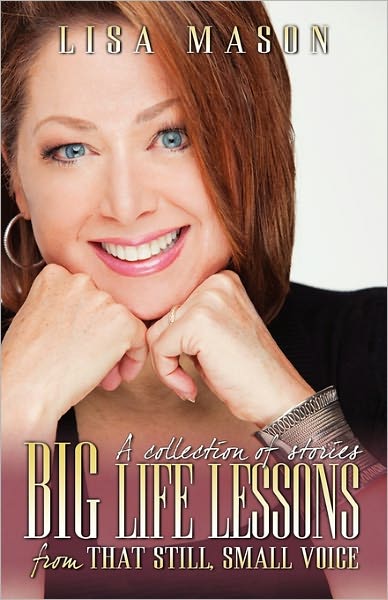 Whenever I watched Lisa Mason when she was on QVC, I was always impressed by her spirit. Whether she was affectionately calling a viewer "sugar" or
hosting a four hour Diamonique marathon, her genuine nature radiated through the TV screen. That's why I was interested in picking up a copy of her book,

Big Life Lessons from That Still, Small Voice

. Lisa is so much more than a salesperson for a cable retailer. She's the daughter of a Baptist minister. She's an Emmy winner for her work on an AIDS documentary. She's an engaging, in-demand motivational speaker. And it is a treat to read how she relates stories from her own life and how she was influenced by listening to God's gentle stirrings in her heart.

What sets Lisa apart is that she pays attention not just to the little things in life, but also how they combine to create a major moment. Throughout the book, her message is – do not fear change, it is inevitable. The key is to be conscious of the inner promptings of our heart, mind and soul. We ignore them at our peril.

I really have a new-found respect for Lisa after learning about her roots. With a
father as an itinerant preacher, s
he continually moved throughout her childhood from small Southern towns to an overseas military base. The ability to adjust to new surroundings shows a strength of character and a defined sense of self that she possessed from a young age. Years later at a charity luncheon, Lisa begins talking with a woman who grew up in a privileged Connecticut environment and attended Ivy League schools. When asked about her own background, Lisa didn't feel comfortable sharing the details of her upbringing. But I'm glad that she overcame that reticence and as a writer was able to open up and share details about her past.

What really comes across is Lisa's honesty. She flunked out of college. She worked as a waitress. She made mistakes in her relationships with others. She suffered from depression. She did not write a book as an ego trip. Instead, she fills the pages with heartfelt emotion.

When filming a documentary she met a young girl dying from AIDS, but no one knew how she contracted the disease. In order to pinpoint the cause, both of her parents were tested and the results came back positive. The entire family succumbed to AIDS. Despite the fact that Lisa won an Emmy for her work, she relates that when she looks at the statue it represents nothing but devastating loss.

Another touching passage involves being stood up by a literary agent in a New York City deli. Feeling like she wasted an entire day, she boarded a train to return home. It was during that journey that she encountered a severely disabled, disfigured child and her mother. Upon disembarking, Lisa noticed that they did not speak English and appeared lost and alone on the station platform. Instead of walking away, she took the initiative, picked up their bags and helped them find the customer service desk. She even drove them to the airport. After all of this, she didn't receive a pat on the back or an effusive show of gratitude. Instead she knew deep down that she accomplished what she was supposed to do that day.

For QVC fans, it may come as a surprise that Lisa initially regretted accepting the job back in the early 1990s. She relates pulling into the parking lot in her Nissan Sentra for a 4 a.m. show. She felt bloated and blotchy. She was suffering through a bad mullet-style haircut. She had gained 10 pounds. She was dead tired. Walking down the hallway in her baggy sweats, she bumped into Joan Rivers. Feeling like she looked a mess, she fumbled through an introduction with the famous comedian. She recalls Joan being nothing but gracious.

Fast forward to the 1993 Oklahoma City bombing. Lisa is on board a plane above the city in order to present a broadcast for QVC's 50 states tour. Needless to say, when the plane landed and she found out what happened she went into a state of shock. The show was canceled and she returned home with a case of post traumatic stress disorder. She struggled to pull herself together. At her lowest point, she opened a package labeled personal but lacking a return address. What was inside was a necklace without a note. After looking at it more closely, Lisa realized it was ironically from Joan Rivers.

These slice of life vignettes are divided into 10 brief chapters (the entire book totals 115 pages). Each concludes with a life lesson, and some feature a biblical quotation. The book is not heavy on Christianity, but it does provide the framework for the overall theme. It also includes poignant literary references, such as the following from Ralph Waldo Emerson:

"Success"
To laugh often and much.
To win the respect of intelligent people and the affection of children.
To earn the appreciation of honest critics and endure the betrayal of false friends.
To appreciate beauty.
To find the best in others.
To leave the world a bit better, whether by a healthy child, a garden path or a redeemed social condition.
To know that even one life has breathed easier because you have lived.
This is to have succeeded.

Lisa Mason has done just that.


Overall,
a former QVC host shares stories from her own life and how to make a difference in the lives of others.


Big Life Lessons from That Still, Small Voice
by Lisa Mason is available for $10.95 at
Amazon.com
and at
LisaMason.org
.


R
eview copy purchased from
Amazon.com