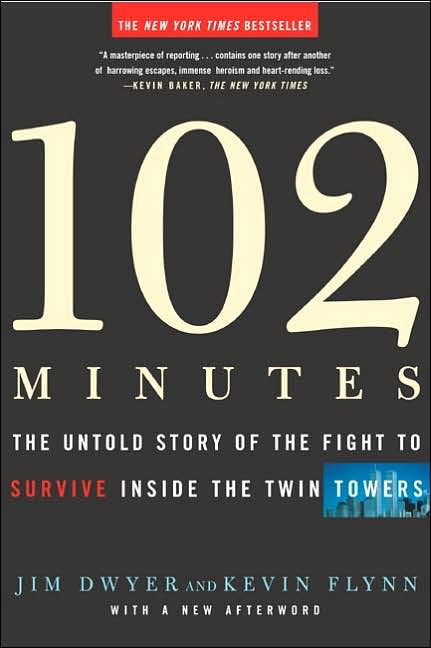 It seems hard to believe that we're approaching the 10th anniversary of September 11th. At the time, I had just moved to Manhattan about two weeks before the attacks. When it happened, I was alone in a Greenwich Village apartment scared out of my mind. I remember hearing the roar of American Airlines Flight 11
as it flew over my roof before crashing into the North Tower. I remember seeing an armed military fighter jet flying overhead ready to shoot down any more hijacked planes. I remember hearing people hysterically crying as they returned to my apartment building and made their way up the corridor of steps that passed my door. I could go on, but I can only offer a limited scope on a day that defies all magnitude.

I've wanted to read

102 Minutes: The Untold Story of the Fight to Survive Inside the Twin Towers

by Jim Dwyer and Kevin Flynn for quite some time now. And I'm not afraid to say, it took me awhile to gather my courage before I could pick it up. I wasn't sure that even 10 years later I was ready to read about what happened inside the towers on that fateful day. The horror is beyond all imagining, but Dwyer and Flynn provide an important historical resource filled with humanity and backed by a gargantuan reporting effort. The amount of facts, interviews, phone recordings and email accounts is seamlessly woven into a gripping narrative that is utterly fascinating. I could not put it down once I started and ended up finishing the book in two days. The writers' ability to make you feel like you are inside the towers while these catastrophic events are unfolding is nothing short of investigative journalism at its best.

What surprised me is that even after a decade of continuous media coverage there was still so much that I learned for the first time in this book. There were roughly 14,000 people in the towers when the first plane struck and over 12,000 made it out alive. That is a staggering number. When they descended multiple stories of narrow staircases, the survivors then had to exit a lobby from which bodies and fiery debris were dropping from above. The fact that so many were able to safely evacuate is astounding.

The sheer amount of detail in the book is impressive. For example, no one could make it to the roof because a series of three doors were designed to prevent would-be suicide attempts from jumping off the city's tallest buildings. Yet, those above the crash zone even found a window washer with a key card that would open two of the doors, but no one was monitoring a video camera to push a button that would unlock the third door. Even so, a helicopter rescue was deemed unlikely due to the vast amount of smoke engulfing the tops of both towers. It is heartbreaking to witness the frustration of those trying to find a way out at all costs.

What boggles the mind is that the majority of the people in the towers - civilians, firefighters, police - had no clue what was going on. The millions of people watching the scene unfold on TV had a better vantage point than those inside fighting for their lives. It makes you wonder what would have happened today in the age of Twitter and Facebook when news headlines are so readily available via cell phone. In a state of utter confusion, 911 operators gave conflicting instructions to those calling from the World Trade Center. Some callers were told to leave, while others were instructed to stay and wait for help. In the midst of such pandemonium, it was hard for anyone to get a clear picture of what was going on. Was it a bomb? Was it a fire? In fact, due to the geographic nature of the buildings, some in the South Tower could not even see that the North Tower had been hit.

There are so many individual stories profiled in the book, but one that stands out for me is Battalion Chief Orio J. Palmer, a marathon runner and FDNY firefighter. His determination led him to climb 78 stories to reach the impact zone of the South Tower. He made it to an elevator staging bay where people would transfer to complete their ascent or descent. Many were waiting here when American Airlines Flight 175 slammed through. The death and destruction Palmer witnessed and radioed back was beyond belief. The saddest thing is that despite a valiant effort he too perished minutes later when the South Tower collapsed.

A poignant section features photographs taken inside the towers that day. You see Palmer in full uniform in the lobby. You see NYPD officer Moira Smith escort an injured man to safety before she herself perished in the collapse. You see pictures taken by survivor John Labriola as he snapped images of firefighters rushing up the stairs while a whole line of people trickle down and the lobby of the North Tower whose windows overlook a plaza filled with burning debris. These images are haunting as they offer a fleeting glimpse inside a moment of history.

The diagrams are also phenomenal. The illustrations of the two towers showing the floors that were directly impacted by the planes offer a reference point that you will return to again and again as you make your way through the chapters. The escape routes are also clearly depicted showing the staircases as well as the shopping mall beneath the towers through which many found safe passage.

The explanation behind the collapse of the towers is thorough and well-documented. The spray-on fire repellent that coated the steel foundation just wasn't strong enough to withstand the immense heat of jet fuel inferno. In fact, it was never properly tested in the first place. Not to mention during construction the number of staircases was reduced in order to capitalize on available real estate space. The building code was changed which allowed this to occur.

The horror of the day is told in pieces, but it adds up to a frightening whole. Survivors recount the towers swaying when each plane hit. Helicopter pilots report that some people were pushed to their deaths when those at the windows desperately tried to reach fresh air and escape the flames. Those in the restaurant on the top floor of the North Tower call desperately for help when the floor beneath them begins to give way. Dozens of firefighters are seen gathering on the 19th floor of the North Tower not knowing that the South Tower had just collapsed and they should evacuate. And all of this happened in a mere 102 minutes.


Overall,
a gripping, compelling piece of investigative reporting that shows what it was like to be in the World Trade Center on September 11th.

102 Minutes
by Jim Dwyer & Kevin Flynn is available for $17.00 at
Amazon.com
and at
Times Books.
Times Books just published a revised edition to honor the 10th anniversary of the attacks of September 11, 2001. In the new postscript, Dwyer and Flynn write movingly of the legacy of the attacks for those New Yorkers whose lives were forever altered on that day, and for all Americans who will never forget those 102 indelible minutes.
Congratulations to our winner: Annmarie Weeks!