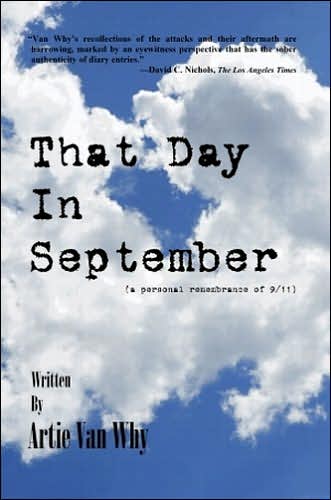 It was, in fact, one of those moments in which history splits, and we define the world as ''before'' and ''after.''

-New York Times, September 12, 2001

Without question, 9/11 stands as the defining moment of the 21st century. It is a day that rocked the United States to its very core. Everyone has a story to tell about where they were and what they were doing on that monumental date, but nothing can compare to the accounts from the actual eyewitnesses. Ordinary people who were at the World Trade Center and saw - not on a TV screen, but with their own eyes - the death and destruction that unfolded around them. It is imperative for history's sake that their testimonies are preserved for the better understanding of future generations.

Artie Van Why was there, and of his own initiative, published his firsthand account in

That Day in September

. Van Why's story isn't headline grabbing. It's not the stuff movies are made of. And that's what makes it powerful. It is the kind of story that usually gets lost in the rubble. It is how thousands of everyday working people experienced the events around the World Trade Center. Van Why shows what it felt like to be on the ground during a turning point in history. For him, it started as just another day on the job.

How did he arrive at this place? As a one-time struggling actor, he was a word processor working for a law firm across from the World Trade Center. A law firm that ironically moved to the location just three months before 9/11. Fate places us where it will, and Van Why is no exception. To make sense of the trauma, he turned his horrific memories into a written record of what it was like to be there so that others could get a more complete picture of what really happened that day.


With a deep sense of empathy and feeling, Van Why is
an extremely compassionate narrator.
His memories are detailed and vivid. He hears an explosion as his office building shudders. He exits onto a street covered in paper. He is transfixed by a burning, gaping hole in the North Tower. He sees people falling to their deaths, arms and legs flailing. He is bombarded with the sounds of sirens and shattering glass. What does he do? He runs into the chaos desperately wanting to help. He heads toward the familiar - his favorite bookstore in Building 5 of the World Trade Center complex - but is assaulted by this ever present new reality as Flight 175 strikes the South Tower. Pushed into a stampede, he is carried away as those on the ground run for their lives. He is caught up in the cloud of debris that envelops the area after the towers collapse, then makes the long walk home to his apartment amid a silent group of fellow travelers.

The aftermath is also tellingly described. The day after, his regular coffee shop opens in order to be a source of communal support.

He doesn't want to be alone.

The city is covered with handbills of missing people.

He is haunted by the question, "Did he see any of them that morning?"

A memorial area is set up in the lobby of his apartment building for two residents who perished.

He makes sure to replace the flowers and relight the candles.

Ground Zero is closed to visitors.

He returns and is led onto the periphery of the site to make his condolences by a pair of sympathetic cops who learn he was there that day.

Continuous media coverage floods the airwaves and newsstands endlessly repeating the story.

He turns off the TV, throws away his newspapers and takes the pants and shoes he was wearing on 9/11 placing them in a box for safekeeping.



But what really changed for Van Why was his mindset. He would no longer live his life on autopilot. He wouldn't settle. He would make his own decisions about his destiny. Those that died were not granted that opportunity, and he would live the remainder of his life in honor of their sacrifice. He would not take things for granted and would live life to the fullest.

And that he did. Encouraged by friends and family to turn his emails from that time period into something larger in scope,
he initially wrote
That Day in September

as a one-man play that ran in Los Angeles and off-Broadway in New York. Now a self-published book endorsed by the

Los Angeles Times

(not an easy feat),

That Day in September

is a wonderfully written personal account told in under 100 pages with 17 fast-paced chapters.


Overall,
a must-read for anyone who wants to know what it was like to be in New York on 9/11.

That Day in September
by Artie Van Why is available for $9.95 at
Amazon.com
and at the
That Day in September blog.
Congratulations to our winner: Sheila DeChantal!