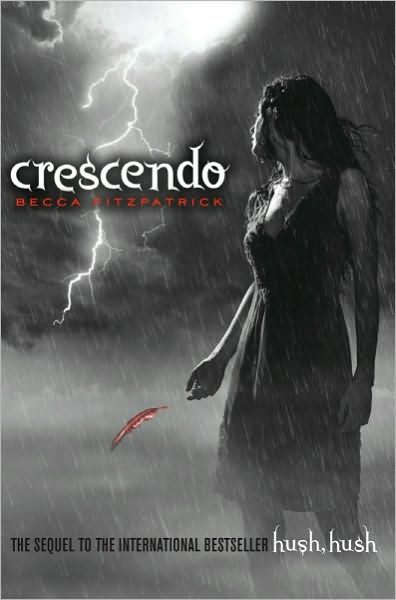 Well, all you fan girls - hold onto your belt loops because Patch is back in Becca Fitzpatrick's

Crescendo

, the sequel to her New York Times best selling debut,

Hush Hush

.
What could be hailed as the second coming of Edward Cullen is the dark, brooding guardian angel known as Patch and his forbidden romance with his all-too-human girlfriend, Nora. This bad boy known for his tight black jeans and chiseled washboard abs has teenage hearts aflutter across the country. And it's not just adolescents who are into this young adult phenomenon - female readers of all ages are propelling this paranormal series into the stratosphere.

So, what's all the hype about? Nora, a high-strung, emotional girl, is a bundle of nerves throughout the book. She is perpetually conflicted about Patch's true feelings for her. She wants to move on, but she can't. She can't have Patch, but she still wants him. She can't stand seeing him with other girls, but she makes sure to kiss other guys right in front of him. A typical high school relationship.

But where Nora and Patch differ is that they find themselves battling the elements of a supernatural realm. When Patch first met Nora, he was a fallen angel. Bad news. After he saved her life, he automatically became her guardian angel. Which sounds good, however his new role stipulated that he was not allowed to fall in love with his charge or he would earn a one-way ticket to hell. So who's keeping tabs of Patch's love life? The archangels. A group that monitors and enforces otherworldly law. They're watching Patch and Nora. To prevent a terrible fate from befalling her beloved, Nora after openly declaring her love, puts an end to their relationship. Chapters full of longing and heartache ensue.

Fitzpatrick knows her audience and her dialogue is spot on for the social media generation. Vee, Nora's BFF, perfectly represents this banter. She's worried about being too fat. She's obsessed with cute guys. She's on her cell phone, 24/7. You get the idea. While Scott, the new boy in town with a secret past, is the ideal model of the surly boy. He talks back to his mother. He throws spur of the moment drinking parties. He hangs out in the bad part of town. His wise guy persona masks an inner turmoil that he is failing to alleviate on his own. Will Nora put her feelings for Patch aside and be a source of comfort for her new admirer?

While full of Fitzpatrick signature scenes - car chases in the library parking garage, danger at the amusement park and make-out sessions in Patch's Jeep, the sequel takes a more serious note when Nora begins seeing her murdered father walking around town. Is he really dead? Is he really her father? Is he out to harm her? A new level of intrigue is introduced in regards to why Marcie Millar, Nora's archenemy and now rival for Patch's affections, is so obsessed with making Nora's life a living hell. While an unexpected twist has one character abruptly switching sides.

Overall,

Crescendo

is a bit long on narrative at over 400 pages - the on-again/off-again nature of Nora and Patch gets a little tedious and the paranormal terminology gets a tad intricate and confusing. But the multiple surprise revelations at the conclusion will certainly leave fans eager for the third installment of Fitzpatrick's uber-popular series.
Crescendo
by Becca Fitzpatrick is available for $18.99 at
Amazon.com
and at
BeccaFitzpatrick.com
.


R
eview copy provided by

Valley Community Library

.