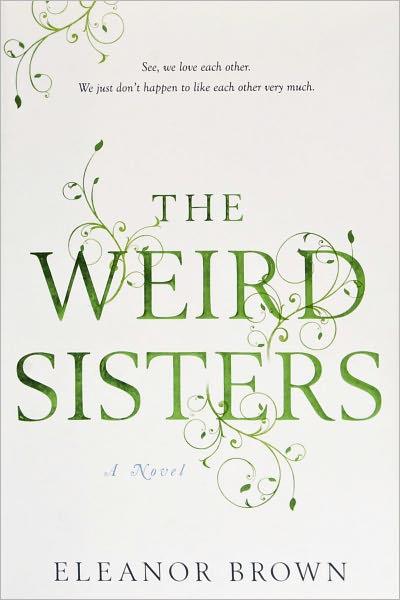 If realism in fiction is an art form, then characterization is the piece de resistance. Getting it right is

oh so hard

to achieve. Stereotyping is a common pitfall, one-dimensional personalities are abundant. But when the essence of a flesh and blood person is transferred to the page, the result is pure magic. Make no mistake, a fully actualized character does not have to be likeable. In fact, how many people are completely honorable when it comes to dissecting a real life? Would the sum total of anyone's actions, desires and motives pass such a litmus test? In Eleanor Brown's

The Weird Sisters

, a trio of adult women are brilliantly captured as living, breathing human beings - bitchy moments, bad decisions and all.

Perceived failure permeates the psyche. All three sisters feel that they are not living up to expectations. Over the course of a summer, they all return home seeking refuge from the world only to find that their mother is battling for her life. Her illness may bring them under the same roof, but they have a lot of individual issues to resolve before they can come together in any meaningful way.

Rose is terrified of change. She becomes immobilized when confronted with the dilemma of bravely starting a new life with her fiance or clinging to the safety of the familiar. She still lives and works in the same hometown as her parents, and her obstinate loyalty in remaining close to them hinders her ability for growth. Her dedication, while selfless, leaves her stifled. She would rather accept the consistency of a humdrum existence rather than push the envelope. Will she seize the opportunity for love and happiness or let it slip through her fingers?

Bianca, a.k.a. Bean, is a Manhattan socialite in retreat. Her designer handbag didn't contain the cash needed to maintain her expensive lifestyle. Drowning in debt, she leaves everything behind succumbing to depression. She pulls the covers of her childhood bed over her head in disgrace. Small town life does not sit well with her and her pride is further wounded when she ventures out to the local watering hole alone with disastrous results. While trying to keep her financial predicament a secret, she goes on to betray the trust of a longtime friend. Will she sink deeper into immorality or will she find the inner strength to rally and pull her life together?

Cordelia is the free spirit. Sometimes she doesn't wash. She is known to take off for months at a time with no one knowing her exact whereabouts. She's a wanderer, a drifter. Freedom is her religion. Being tied down isn't for her, until she realizes she is pregnant. Her new found sense of responsibility pricks her conscience. She's alone, and she's scared. For the first time, she wonders if she can make a sustained commitment to anyone or anything. Will she run again or will she finally put down roots - in of all places - her hometown?

Literary buffs will appreciate the varied allusions to Shakespeare throughout. From the girls' names to their father's frequent outpourings of soliloquy, the Bard, himself, is cast in a supporting role. His immortal words intertwined with Brown's modern approach fuse together forming a literary style all its own.

Overall
, reality is anything but weird.


The Weird Sisters
by Eleanor Brown is available for $24.95 at
Amazon.com
and at
Eleanor-Brown.com
.

Thank you to Jenn's Bookshelves for recommending this book. Follow her fantastic book blog and Twitter posts.


R
eview copy provided by

Valley Community Library

.