M

y thanks to

Kelly Hashway

f
or stopping by Tribute Books Reviews & Giveaways for an author interview about her book, May The Best Dog Win.
1. How did you come up with the title?
The title, May The Best Dog Win, is actually humorous because the battle is between a dog and vacuum cleaner. But it suits the story since the dog, Dash, thinks the vacuum is a strange new breed of dog.


2. Is there a message in your novel that you want readers to grasp?

Yes, the message is that everyone wants to feel loved. Dash thinks he loses his place in Mom's heart when Sweeper arrives. No child, or adult for that matter, wants to feel that way.


3. How much of the book is realistic?

The is actually based on my own dog's reaction to the vacuum cleaner, so there is some truth in the story.


4. If you had to do it all over again, would you change anything in your book?
I don't think so. I was very happy with the final product. The illustrator and team of editors I worked with at FutureWord Publishing did a great job.


5. What was the hardest part of writing your book?
I find the actual writing to be the easiest part. The tough part is finding the right publisher for the story.


6. Did you learn anything from writing your book and what was it?
I learned that picture books are definitely a 50/50 between the author and the illustrator. I had to give up control and allow the illustrations to tell the story with me.


7. Do you recall how your interest in writing originated?
I've always loved books, and even at a young age, I wrote stories. I just have a lot going on in my head, tons of ideas that need to be written down.


8. Who is your favorite author and what is it that really strikes you about their work?
There are so many great authors. I love Don Freeman's

Corduroy

books. Freeman makes that bear the most lovable creature.


9. Tell us your latest news.
I have other picture books in the works. A coloring book edition of

May The Best Dog Win

will be available in the very near future. I also have a book called

The Purrfect Puppy

set to release in October. In addition, I have two other picture books under contract.


10. Do you have anything specific that you want to say to your readers?

Keep reading because books are one of the greatest treasures we have.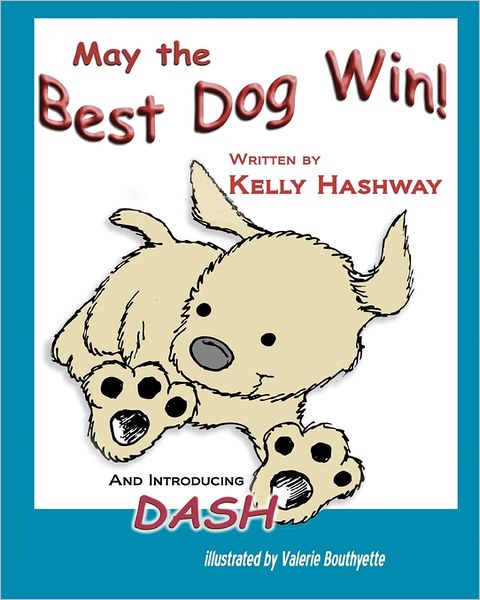 About the Book
May The Best Dog Win
Book Details:
Price: $11.95, paperback
Publisher: FutureWord Publishing
Published: March 2011
Genre: Children's Picture Book
Pages: 30
Blurb:
Dash has the perfect life until the Super Sweeper 5000 shows up. Sweeper runs all over the house sucking up the leftover food scraps, and he even gets his own room! But Dash won't give up his place as the favorite dog without a fight.
About the Author

Kelly Hashway


Kelly Hashway, formerly Kelly Bradley, is originally from Vernon, New Jersey. Her love of reading and writing led to a degree in English. She taught middle school language arts in Blairstown, New Jersey for seven years before becoming a full-time writer and mother. Kelly has published over fifty short stories in various children's magazines and anthologies.

May The Best Dog Win

is her first picture book. Kelly is a supporter of the ASPCA and the Humane Society. She resides in northeastern Pennsylvania with her husband, daughter, dog, and cat.

Connect:
KellyHashway.com
or


Facebook




or


Twitter

Book Signing Event
First time picture book author and local resident, Kelly Hashway, will be hosting a reading and book signing at

The Shawnee Inn and Golf Resort's Buckwood Café from 10:00am – 11:00am on Saturday, September 17th

in celebration of her latest published work

May the Best Dog Win

.
The reading and book signing are free and open to the public. Refreshments and delicious treats will be available for purchase at The Buckwood Café. The week leading up to the event, signed copies of

May the Best Dog Win

will be available for purchase at The Buckwood Café.
For more information or to schedule an interview, please contact Jeromy Wo, the Shawnee Inn's Public Relations Coordinator at tel: 570-424-4050 x1409 or e-mail:

pr@shawneeinn.com

.
www.ShawneeInn.com
About The Shawnee Inn and Golf Resort
The Shawnee Inn and Golf Resort, rich in breathtaking views, features 80 rooms in the historic Inn, 12 rooms in the Delaware Lodge, plus six suites and two cottages in Shawnee's luxury accommodation, the Legacy Collection. Shawnee's varieties of recreational facilities make it an ideal destination for any event. Choose from Shawnee's 27-hole championship island golf course, golf lessons at the Tillinghast Golf Academy, nine-hole lighted Tillinghast Approach Course, skiing at Shawnee Mountain, mountain biking, or hiking on the scenic Appalachian Mountain trails, canoeing, rafting, fishing, kayaking, indoor pool, fitness room, tennis, professional theater, and Spa Shawnee and Salon.
The Shawnee Inn and Golf Resort is conveniently located 70 miles from New York City, 100 miles from Philadelphia, 150 miles from Albany, N.Y. and 200 miles from Washington, D.C. Three airports – Lehigh Valley International, Wilkes-Barre/Scranton and Newark International – all are within easy distance of the property.