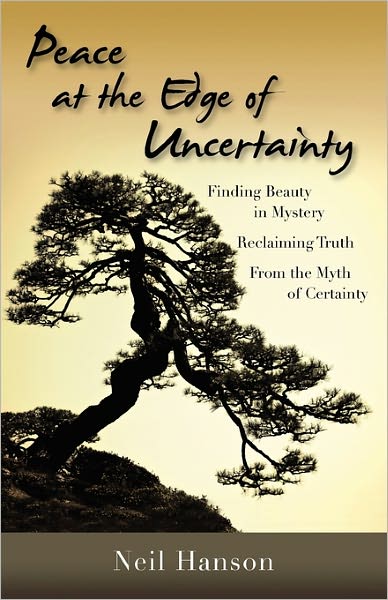 Death is the final frontier. It is the destination of every person to walk the face of the Earth. It is unavoidable, inescapable, unknowable - yet it holds such a mysterious fascination.
Any book examining death from a personal perspective immediately becomes universal in scope. We all seek to find out what lies beyond. We yearn for answers, yet fear what is impossible to discern. In

Peace at the Edge of Uncertainty

, Neil Hanson recounts the spiritually charged moment of experiencing firsthand his father's passing. In that hospital room, he witnessed the veil, separating life and death, briefly lift in his presence. It was a profound encounter that continues to shape his outlook on life.

Hanson wrote the book 15 years after his father's death. It is composed in letter format as he attempts to correspond with his father on a spiritual plane. He hopes that by expressing his thoughts and emotions on paper the message will reverberate to where his father's soul now resides. Hanson stresses two points. First, he says he's sorry for any stress his youthful misbehavior may have caused and that he forgives his father for not always being there for him when he was growing up. Second, he tells his father that he loves him. Contrition, forgiveness and love are what Hanson yearns to tell his father from the very depths of his heart.

The emphasis behind this communication is that Hanson's father was brought to the hospital in a coma from which he never recovered. The unexpected nature of the situation left no room for closure. Hanson was never able to talk with his dad again. While his body was still physically present for the remaining time they had together, his mind was not. This absence of words prompted Hanson to write this book. He longed to be able to communicate with his father one last time.

While Christian in nature, the book is pluralistic in tone. Hanson does not endorse any particular faith and in fact finds that many organized religions hinder people from connecting with the divine. He feels people are desperately searching for ways to experience God in their lives, and that they are not provided with the proper spiritual instruction on how to achieve this desire.

His own divine awakening began as a teenager at a high school wrestling tournament. When he was thrown to the ground during a match, he felt his soul leave his body. The atmosphere around him became suffused with light and harmony. Everything was silent, but for what seemed like a chorus of angels filling his ears. He felt a sense of peace he never knew existed. He had entered a state of utter bliss. It was magical, mystical. Until he floated up to the ceiling and noticed the dust on a light fixture, his soul with a pop immediately reunited with his body on the mat. Being able to notice something ordinary like dust, Hanson took to mean that he was still tethered to the ties of this world.

It wasn't until his father drew his last breath that this doorway opened to him again. Albeit, this time he was only allowed to peek through the keyhole and not walk through the door. The same immense feelings engulfed him as his father's soul became separated from his body. While ultimately feeling sad for their impending separation, Hanson also experienced an overwhelming sense of joy as he felt a divine presence enter the room. With his heart rapidly beating and tears streaming down his face, he was granted the privilege of witnessing his father cross the dividing line between life and death.

In a beautiful passage, Hanson recounts the joy of impending fathers in the hospital's maternity ward at the arrival of their newborn babies. What happiness to be there for your child on such a momentous occasion. As his father's soul slips away he realizes the circular nature of the journey. As the son is now there for the father as he returns to the place from which he was born.


Overall,
Hanson beautifully relates the privilege of being able to witness the last breath of a loved one.

Peace at the Edge of Uncertainty
by Neil Hanson is available for $17.95 at
Amazon.com
and at
NeilHanson.com
.

Review copy courtesy of the

Peace at the Edge of Uncertainty blog tour.




PAPERBACK GIVEAWAY
(U.S. only)
1 copy of the paperback version
of the book to the
FIRST person
who leaves a comment on a blog along with an email address.
EBOOK GIVEAWAY
(International)
C
opy of the ebook version
of the book (in choice of format) to
EVERY person
who leaves a comment on any blog review along with an email address during the month of September 2011.
GIVEAWAY ENTRY REQUIREMENT
All entrants will automatically be subscribed to Neil Hanson's email newsletter. Contact information is NEVER shared, and subscribers can unsubscribe at any time.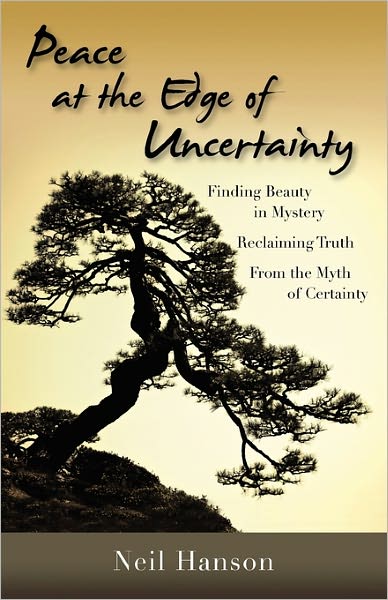 About the Book
Peace at the Edge of Uncertainty
Book Details:
Publisher: High Prairie Press
Published: May 2010
Pages: 132
Genre: Spirituality, Inspirational, Body/Mind/Spirit
Blurb:
In this story told in the first-person form of a letter from a middle-aged man to his deceased father, Hanson invites us to journey with him through the final days of the father's life, finding a magical transition waiting at the end of that journey. The story weaves end-of-life reality and spiritual questioning into a sensitive and revealing tapestry of Truth and Wisdom. The tapestry is colored with true stories of mystical experiences that inform the spiritual path of the son.
Most of us will face difficult and painful end-of-life decisions with the most important people in our lives. The threads of this aspect of the story are sensitive, and Hanson reveals the struggles and destinations of the son as he wrestles deeply with the journey that he must walk in making these decisions for his dying father.
Paperback buy links:
Amazon
Barnes & Noble
Ebook buy links:
Kindle
- $2.99
Nook
- $2.99
Smashwords
- $2.99
About the Author
Neil Hanson
Neil Hanson lives and works in Colorado.
Peace at the Edge of Uncertainty
is his first book. He blogs actively and writes articles for periodicals. He is an avid outdoorsman, passionate about hunting and fishing. He spends a great deal of time bicycling the roads and trails of Colorado, and backcountry skiing in winter. His passion for gardening spills over into a joint venture with his oldest son, where they operate a landscaping and construction company in Colorado.


Neil Hanson's website:
http://neilhanson.com/

Neil Hanson's Facebook:
https://www.facebook.com/neilmhanson

Neil Hanson's Twitter:
http://twitter.com/neilmhanson

Neil Hanson's blog:
http://neilhanson.com/Blog/
About the Tour
Tribute Books Blog Tours
Tour Participants:
August 15
Marilyn's Musings

September 1
The Book Connection (author interview)
and
Live to Read

September 2
Dad of Divas

September 3
Crazed Mind

September 4
The Guide to Good Books

September 5
Dragonfly Essence
and
Moonlight, Lace & Mayhem

September 6
You Gotta Read Reviews Guest Blog (guest post)

September 7
Tribute Books Reviews & Giveaways

September 8
Tribute Books Mama

September 11
Literary R&R

September 12
Coupon Scribbles

September 14
Reading, Reading & Life

September 15
Splashes of Joy

September 17
Minding Spot

September 18
Everything Has a Purpose

September 23
CMash Loves to Read (guest post)

September 25
Reading Between the Lines

September 29
The Hurley Edition

September 30
Passionate Children's Servant
and
Putting Words Down on Paper