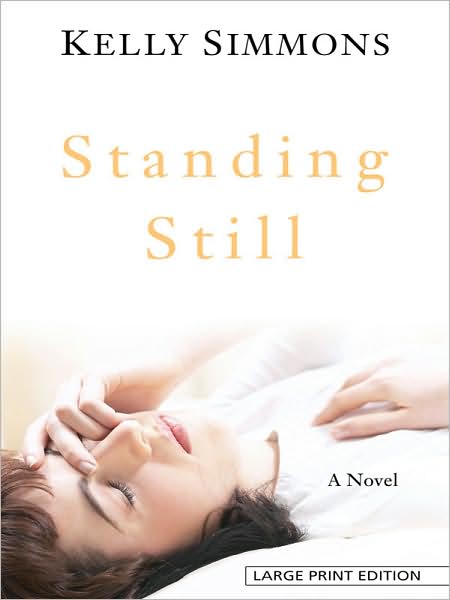 Sometimes a character just doesn't make sense. Why would a woman allow herself to be kidnapped from her own home and then make no concerted effort to escape? Why would she so willingly give up? In Kelly Simmons'

Standing Still

,
it becomes apparent that judging someone before knowing all of the facts is never a good idea. There's more to our victim, Claire, than meets the eye.

As a suspense-filled, psychological thriller, Simmons' writing is electrifying. The night of the abduction is perfectly set. A raging thunderstorm. An intruder's footsteps on the tin roof. A stranger's eyes peering from her daughter's bedroom. It's chill-inducing drama at its best.

A clue to Claire's inner turmoil is revealed when she gives herself up in place of her daughter. The kidnapper readily makes the exchange leaving the easy prey of her three young girls behind preferring instead to drag a grown woman barefoot in a flimsy nightgown into the teeming night. After a 90 minute car ride, they end up in room seven of the Mid-County Motor Inn.

This lock down isn't your typical sequestration. When Claire's one try at freedom is derailed, she never tries to leave the room again - ever. In fact, she grows attached to her jailer. His gentle treatment and kind demeanor lead her to conjure up fantasies about the young Latino man holding her for ransom. He's a paramedic. He's a father. This is his first foray into kidnapping. She starts developing an emotional bond with her unnamed assailant over B.L.T.'s and crossword puzzles.

The question arises - was her life so bad before? It is gradually revealed through flashbacks - that emerge from the memories connected to old snapshots - how she never recovered from her father's death. In the ensuing years, she's suffered from a type of panic disorder and has visited psychiatrists across the country seeking relief from her imagined fears. It is only when her worst nightmare comes to fruition that she begins to reexamine her relationship with her ever-traveling husband and discover just what exactly all of his urgent business trips were really about.

The crux of the novel - the reason why she was kidnapped - doesn't quite live up to the potential build-up, especially in the last few pages when the possibility of who was really involved doesn't match up with what you've been led to believe. Yes, the innuendo is there. Maybe that person was involved, there's just no physical evidence providing the connection, but a key revelation from Claire's past might have made for a more satisfying whodunit. In the end, the association behind why Claire was chosen is vague at best, possibly justifying Simmons' view of the randomness of life.

The lovesick nature of Claire is heartbreaking throughout. Her husband has her kiss the bartender on their honeymoon in order to cover the tab. While her kidnapper teaches her the inherent joy of belly-flopping onto a bed. Her husband left her alone with her panic attacks for nights on end. Yet for the first time, she feels safe under the ever-watchful gaze of her kidnapper. Her husband initially wanted her because he felt she was the ideal, unobtainable woman. However, when responding to the ransom demand, he has his secretary make the call for him. Her husband has essentially carved her out of his life, while her kidnapper has made her the sole focus of his. The dichotomy between the two is stunning.

Overall, you might not understand Claire, but you'll be riveted by how she views her abduction.
Standing Still
by Kelly Simmons is available for $15.00 at
Amazon.com
and at
ByKellySimmons.com
. And be sure to follow Kelly's

Twitter posts

.

Thank you to Jenn for recommending this book. Follow her fantastic book blog and Twitter posts.


R
eview copy provided by

Valley Community Library

.