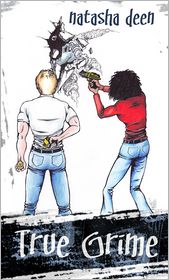 M

y thanks to
Natasha Deen
for returning to Tribute Books Reviews & Giveaways and participating in an author interview during the blog tour for her book,
True Grime
.
Author Interview

1. How did you come up with the title?


It's a play off the non-fiction, true crime books. My main character, Pepper, protects the human race from magical terrorists. The bad guys use viruses and it had me thinking of dirty countertops, hand-washing, which led to "grime." Hence, true stories about the life of a Grime cop:

True Grime

.



2. Is there a message in your novel that you want readers to grasp?


There are a few. I want people to see that human society really is getting better. Sixty years ago, minorities and women had very few rights. Now look at us. We are working hard to be better. Sure, we're slow, but we're getting there and that gives me hope.

I also wanted to address the issue of bullying. When I was a kid, I was bullied and those experiences never leave. I wanted to talk about resiliency and survivorship, but do it in an entertaining, fun way.



3. How much of the book is realistic?


Certain physics and science elements are based on our current understanding, but the best part of being a writer is taking reality and twisting it to shape your idea.



4. If you had to do it all over again, would you change anything in your book?


I don't think so…but ask me again in five years. :P



5. What was the hardest part of writing your book?


Everything's that between the covers: the idea, getting that idea down, edits, more edits, smoothing it all out…but it's always worth it!



6. Did you learn anything from writing your book and what was it?


My biggest lesson was this: sticking through and keeping at it. Writing isn't for the faint-of-heart, and if we eventually want to see our work in print, we have to be willing to put in early mornings and late nights.



7. Do you recall how your interest in writing originated?


I think it started because I love the feeling I get as a reader, when I get lost in a book. I began writing because I wanted to know if I could create that same feeling in others.



8. Who is your favorite author and what is it that really strikes you about their work?


Dean Koontz is my favorite. I love the way he mashes up genres, his ability to describe, and his talent to scare me at the exact moment he's making me laugh.



9. Tell us your latest news.




Right now, I'm running a contest: if you post a review of True Grime on

Amazon.com

, your name will be entered to

win a Kindle, Generation Four

. The full details are

here

.

You can take a look at the trailer here:





10. Do you have anything specific that you want to say to your readers?


Thank you for reading!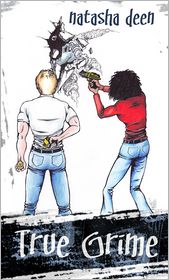 About the Book
True Grime
Book Details:


Genre: Young Adult, Urban, Fantasy/Mystery
Publisher: Blueberry Hill
Publication Date: August 2011
Pages: 276
Price: $12.99 paperback, $0.99 ebook
Buy Links:
Amazon
,

Barnes&Noble.com

,

Smashwords



Synopsis:
Grime cop and teen fairy Pepper Powder lives for one thing: protecting the human species from magical zealots who seek to eradicate them with Violent Illness of Unusual Resistance and Strength (humans call them "viruses," but their mistake is understandable. The very young often get their words wrong.). When a terrorist leader releases a necrophage bomb, it not only decimates Grime headquarters, it turns Pepper into the magical world's first fairy amputee—but she's not going to let a little thing like a missing leg stop her. To catch her criminal, and prevent him from unleashing a VIURS in one of the human world's biggest shopping centers, West Edmonton Mall, she goes undercover as a human. But once Pepper's theories of humanity collide with the reality of bullies, cliques, and environmental destruction, will she still believe humanity's worth saving?

Excerpt:



The necrophage viruses were in a refrigerated unit by the closet. I walked over, opened the door. Fog and cloud escaped with a hiss. I saw the tubes, full of purple liquid. I snapped on a pair of gloves and un-holstered the bullets from my hip. Taking a tube, I dipped each bullet in the virus.

Harley would never have done something like this. Harley would never allow me to do something like this. But Harley wasn't here. I blew on each bullet, dried the virus. Then I put them back in their case. I told myself if I shot any terrorists with the bullets, I wasn't condemning them to death. I'd seen the studies. They had a chance to live.

But the truth was, I was too angry and scared to care. Part of me wanted to kill, to maim them for what they'd done to me and Harley, and what they were planning to do to the humans. Maybe resorting to this level of violence meant I had dropped to their levels, become the very monster I fought against. Or maybe it meant I was finally playing by their rules and stepping into the game the way it was meant to be played.

Frankly, I didn't care. I had one mission: get my partner back, no matter the cost. I snapped my gun into place and left the room.



About the Author
Natasha Deen

When I was little, there was only one thing I wanted to be: a superhero. But there came a day when my dreams were broken, and that was the day I realized that being a klutz was not, in fact, a super power, and my super weakness for anything bright and shiny meant a magpie with self-control could easily defeat me in a battle of wills. I turned to writing as a way to sharpen my mental super-hero skills. I don't get to orbit the earth in a space station (and thank God, because I get sick on merry go round), but I do get to say things like: "Stand aside! This is a job for Writing Girl!!"
Connect with Natasha:
Facebook
Twitter
Blog
Website

About the Tour
Partners in Crime Tours
Tour Participants:


October 8-For The Love Of Reading (Interview)
October 9-Telly Says... (Book Spotlight)
October 10-I Just WannaSit Here And Read (Interview/Giveaway)
October 12-Joel M. Andre's Blog (Review)
October 14th-Tribute Books (Interview)
October 18th-Let's Book It (Review)
October 20-Words By Webb (Review/Interview)
October 25-I Just Wanna Sit Here And Read (Review)
October 28-Gelati's Scoop (Review)
October 29-Pratical Frugality(Review)
November 1-The Top Shelf (Guest Post)
November 1-The Children's And Teens' Book Connection (Interview)
November 5-Rhodes Review (Interview)
November 8-The Top Shelf (Review)
November 10-Moonlight, Lace, And Mayhem (Review)
November 11-The Hot Author Report (Review)
November 14-Haunted Orchid (Review)
November 15-Just One More Paragraph (Review, Interview, Giveaway)
November 17-Me And Reading (Review)
November 21-Love Of Books (Guest Post/Giveaway)
November 22-Everyday is an Adventure (Review/Interview)
November 23-The Children's And Teens' Book Connection (Review)
November 27-Live To Read (Review)
November 29-Reviews By Molly (Review)
November 30-Celtic Lady's Reviews (Review)