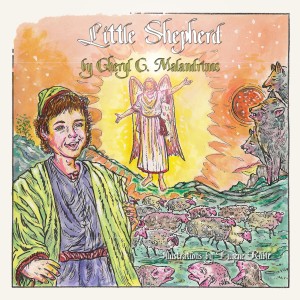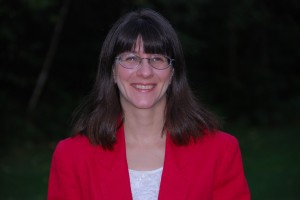 M

y thanks to
Cheryl Malandrinos
for returning to Tribute Books Reviews & Giveaways and participating in an author interview during the blog tour for her book,
Little Shepherd
.


Click to read my review of

Little Shepherd.



Author Interview



1. How did you come up with the title?


It is the story of a young shepherd boy in the hills outside of Bethlehem on the night of Christ's birth, so I titled it, The Little Shepherd Boy. My publisher, Guardian Angel Publishing (GAP), shortened it to Little Shepherd.

2. Is there a message in your novel that you want readers to grasp?
I hope with Little Shepherd I have written a story that makes the first Christmas more personal for children. I want them to see a child not very different from them who decides to step out in faith and is rewarded for it.



3. How much of the book is realistic?


The story of the first Christmas is real. Obed, my little shepherd boy, and his father are fictional characters.



4. If you had to do it all over again, would you change anything in your book?


I think it's a bit too wordy. I would cut back on some of the description and let the pictures paint in those details.



5. What was the hardest part of writing your book?


The hardest part was coming up with the conflict. When I first wrote it, there wasn't any conflict. It was merely the story of a young shepherd who visited the newborn King. Adding in the hungry wolves and Obed's fear that they would swoop down and steal his sheep, created the necessary conflict to move the story along and made it more meaningful.



6. Did you learn anything from writing your book and what was it?


I learned the importance of patience and market research. Changes in the publishing industry seem to come as fast as the speed of light lately, but the overall process of pitching to a publisher or agent hasn't really seemed to change at all. You need to perform market research to know where to send your pitch, and then you spend a good deal of time waiting to hear if your book is accepted, and more time waiting from the date of the signed contract to the day your book is released. It's a challenge for an impatient person like me.



7. Do you recall how your interest in writing originated?


I've been an avid reader my entire life. I was the kid in school who enjoyed outlining and writing book reports. I began writing as a teenager to help me cope with the death of my mother. Life got in the way, and I didn't seriously pursue writing as a career until I became a stay-at-home mom in 2004.



8. Who is your favorite author and what is it that really strikes you about their work?


Oh my, you had to ask. I have so many. For children's it's a tie between Laura Ingalls Wilder and Lucy Maud Montgomery. Both women had a keen eye for detail. While Wilder's prose was simpler than Montgomery's, both of them painted great pictures for their readers using visual details.



9. Tell us your latest news.


My second book, A Christmas Kindness, was contracted by 4RV Publishing. It should be released next fall under my pen name, C. C. Gevry.



10. Do you have anything specific that you want to say to your readers?


If you've read Little Shepherd, I would love to hear from you or your children. You can reach me at ccmal(at)charter(dot)net or visit my website at ccmalandrinos.com and click on my "Contact" page.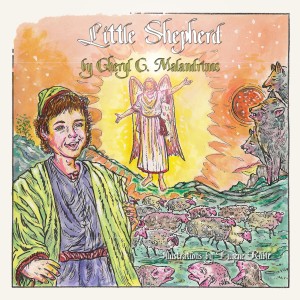 About the Book
Little Shepherd
Book Details:


Genre: Children's Picture Book
Publisher: Guardian Angel Publishing, Inc.
Publication Date: August 2010
Pages: 16
Format: Paperback
Price: $9.95
Buy Link:
Amazon
Synopsis:
Obed is in the hills outside Bethlehem on the night of Christ's birth. Can he trust the miracle of Christmas to keep his flock safe while he visits the newborn King?



Excerpt:


"Let us go to Bethlehem and see this thing that has happened, which the Lord has told us," Father said to the men.

"What about the sheep?" Obed's brow furrowed.

Father's smile drew deep lines into a face well worn by many days in the sun. He set his gaze on the sky, then down into Obed's curious, brown eyes. "Somehow, I think they will be safe."

Obed's eyes widened in amazement. "Father, surely we mustn't leave them alone."

"The angels must want us to see this Savior. Come now, let us not waste any more time," his father said.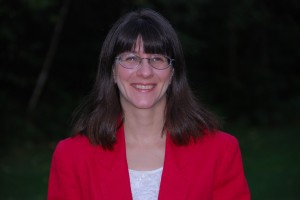 About the Author
Cheryl Malandrinos

Cheryl Malandrinos is a freelance writer, children's author and editor. Her first children's book,

Little Shepherd

, was released in August 2010 by Guardian Angel Publishing. She is also a member of the SCBWI.

Cheryl is a Tour Coordinator for Pump Up Your Book, a book reviewer, and blogger. She is also a former contributor for the Writer2Writer eZine. Ms. Malandrinos lives in Western Massachusetts with her husband and two children. She also has a son who is married.
Connect with Cheryl:
Web Site
Blog (Little Shepherd)
Blog (Adult Book Reviews)
Blog (Children & Teen Book Reviews)
Blog (Book Reviews)
Twitter
Facebook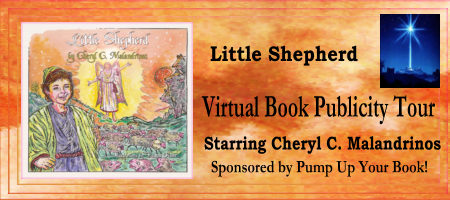 About the Tour
Pump Up Your Book
Tour Participants:

Tuesday, November 1st
Book reviewed at So Many Books..So Little Time
Wednesday, November 2nd
Book reviewed at Splashes of Joy
Thursday, November 3rd
Podcast interview at A Book and A Chat 6:30 PM Eastern (Lack of electricity may cause rescheduling)
Friday, November 4th
Book reviewed and giveaway at Day By Day in Our World
Monday, November 7th
Podcast interview at Stories from Unknown Authors 1:00 PM Eastern
Tuesday, November 8th
Book reviewed at Unionvale Homeschool
Wednesday, November 9th
Book reviewed at One Day at a Time
Thursday, November 10th
Interviewed at 4 the Love of Books
Friday, November 11th
Guest blogging at Nancy Stewart Books Blog
Monday, November 14th
Book spotlighted at The Plot
Tuesday, November 15th
Guest blogging at The Plot
Wednesday, November 16th
Guest blogging at Let's Talk Virtual Book Tours
Thursday, November 17th
Book reviewed at Shaky Mommy
Friday, November 18th
Guest blogging at InkyBlots
Interviewed at Examiner
Monday, November 21st
Guest blogging at J Q Rose
Tuesday, November 22nd
Blogging at Little Shepherd
Wednesday, November 23rd
Book reviewed at Coffee and a Keyboard
December dates coming soon!